Please, login to see the price.
Summary
What does it do?
Ingredients
Preparation
How to use it?
Precaution
In the media
Reviews
Ban Xia Bai Zhu Tian Ma Pian (Ban Xia Bai Zhu Tian Ma Wan, BalanceEZ™, formerly Vertigoff™,
半夏白术天麻片
) is an ancient Chinese medicine that dispels Wind, Phlegm, and Dampness. This formula supports harmony in body's balance.
†
Best before date:

5.2026
Helps Support Balance After A Sense of Spinning†
Pressure builds up in your ear. Even though you're firmly rooted on the ground, to your ears, it feels like you're scuba diving on the ocean floor.
As if that's not enough, you begin to hear an agonizing ringing or buzzing sound. Nobody else notices the sound except for you. It's a disturbing, alienating feeling. Mercifully, the mysterious horrible sounds fade away. Your sense of balance makes you feel like you've been drinking alcohol heavily.
If you're seeking an herbal remedy, BalanceEZ is used for the traditional Chinese medicine (TCM) syndrome that includes lightheadedness.
Containing 14 botanicals, BalanceEZ is based on a formula that's been used successfully since the 13th century in China.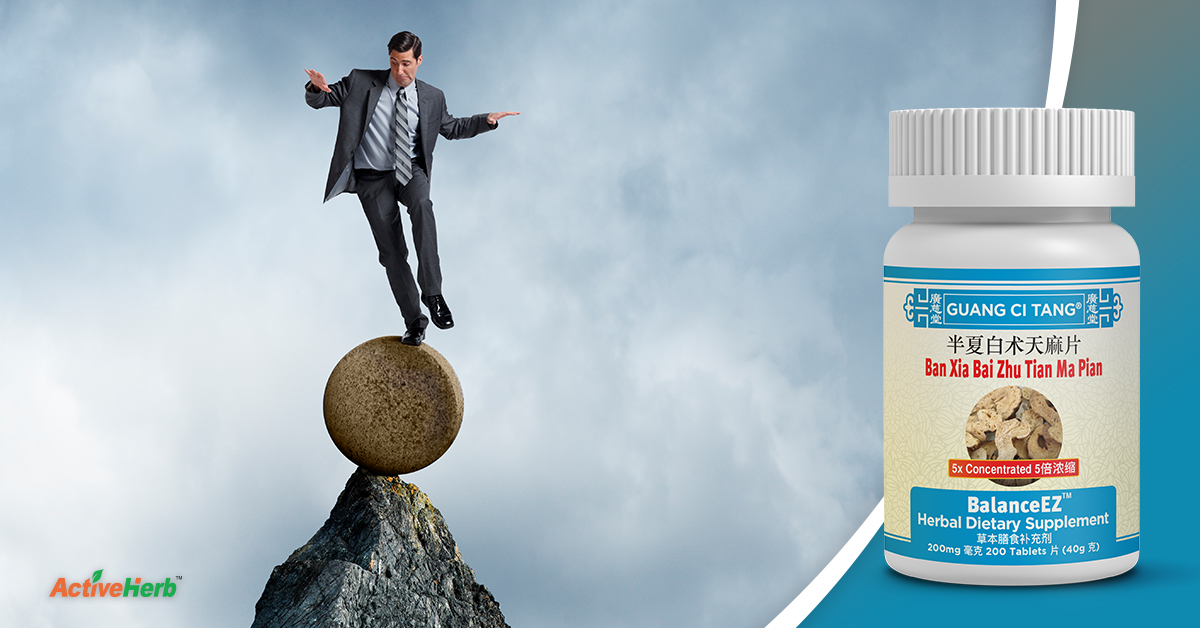 Classic formula resolves internal Wind and Phlegm†
The TCM syndrome BalanceEZ takes care of is called Wind-Phlegm invading upward (风痰上扰证), presenting with a sensation of loss of balance, an urge to throw up, along with a whitish and greasy tongue coating and a slippery pulse.
In TCM theory, spinning is indicative of Wind. Wind is generated from the Liver. As a physical wind can shake a tree, Wind in the body can cause spinning and imbalance.
Similarly, an urge to throw up is indicative of phlegm and dampness. When dampness accumulates, it produces phlegm, which prevents "clear Yang" (the essences: Qi, Blood, Yin, Yang, etc.) or nutrients from ascending and nourishing the head. As a result, a disturbance in balance may occur.
BalanceEZ is uniquely formulated to both extinguish Internal Wind and clear Phlegm. It remains one of the most widely dispensed Chinese herbal medicines for these symptoms to this date.
How does BalanceEZ work?
BalanceEZ contains the same ingredients as the classic formula invented in 1249, Ban Xia Bai Zhu Tian Ma Tang, albeit with slight differences in formula composition, thereby improving upon the original formula.
Many of the herbs in BalanceEZ clear phlegm and dampness. The herbs with these actions are Zhi Ban Xia (Pinellia Rhizome); Cang Zhu (Rhizoma Atractylodis), Ze Xie (Alisma Rhizome), Fu Ling (Poria), and Gan Jiang (Dried Ginger).
Zhi Ban Xia (aka 'Ban Xia') is the primary namesake herb that dissolves phlegm. As such, it harmonizes the stomach, which may resolve stomach discomforts.
Tian Ma (Gastrodia Rhizome), another namesake herb in the formula, primarily calms the Liver extinguishes wind. Zhi Ban Xia and Tian Ma together serves the main purpose of removing Wind-Phlegm.
Bai Zhu (Atractylodes Rhizome), also a namesake herb, and Fu Ling act together to strengthen the Spleen and dry dampness. This is to address the root cause of phlegm generation in the Spleen.
Huang Qi (Astragalus Root) and Ren Shen (Ginseng Root) are two well known herbs that tonify Qi.
Mai Ya (Barley Sprouts), Shen Qu (Medicated Leaven), and Chen Pi (Dried Tangerine Peel) also strengthen the Spleen, assist digestion and promote Qi movement.
Huang Bo, aka Huang Bai (Amur Cork Tree Bark) clears heat and dries dampness, purging fire and removing vaporized heat. It also balances the drying property of Cang Zhu.
Finally, the last herb in the formula, Gan Cao (Licorice Root) both tonifies the Spleen and harmonizes the action of other herbs in the formula.
References
| | | |
| --- | --- | --- |
| Pinellia cured rhizome | Pinellia ternata | (Zhi Ban Xia) |
| Tangerine dried rind of mature fruit | Citrus reticulata | (Chen Pi) |
| Bai-zhu atractylodes rhizome | Atractylodes macrocephala | (Bai Zhu) |
| Medicated leaven | | (Shen Qu) |
| Barley dried germinated ripe fruit | Hordeum vulgare | (Mai Ya) |
| Gastrodia rhizome | Gastrodia elata | (Tian Ma) |
| Asian ginseng root | Panax ginseng | (Ren Shen) |
| Cang-zhu atractylodes rhizome | Atractylodes lancea | (Cang Zhu) |
| Astragalus root | Astragalus membranaceus | (Huang Qi) |
| Asian water plantain rhizome | Alisma orientale | (Ze Xie) |
| Poria sclerotium | Poria cocos | (Fu Ling) |
| Chinese licorice root & rhizome | Glycyrrhiza uralensis | (Gan Cao) |
| Ginger dried rhizome | Zingiber officinale | (Gan Jiang) |
| Phellodendron stem bark | Phellodendron chinense | (Huang Bo) |
Other ingredients: corn starch (non-GMO), dextrin, magnesium stearate.
We use as little fillers/binders as possible which together amounts to 13% of the tablet weight.
Guang Ci Tang
® Ban Xia Bai Zhu Tian Ma Pian (BalanceEZ™) 40 grams in 200 mg 200 tablets @ 5:1 strength.
At a true 5:1 concentration, this product represents the most potent form of Ban Xia Bai Zhu Tian Ma Pian (Wan) on the market. One tablet is equal to 1 gram of raw herb.
Please note that Guang Ci Tang® Ban Xia Bai Zhu Tian Ma Wan in the pill form, which has the same formulation as the tablet, is discontinued.
Ban Xia Bai Zhu Tian Ma Pian tablets are made with 100% natural herbs that are tested for authenticity, quality, and potency. A traditional water decoction is prepared with the herbs to reproduce the time-tested efficacy of the formula, and this water decoction is concentrated with our proprietary technology to form a potent extract that is made into easily absorbed tablets, which are remarkably effective, easy to use, and safe. The tablets are produced by Guang Ci Tang
®
in our state of the art cGMP-certified facility and imported in accordance with U.S. FDA guidelines. When you choose Guang Ci Tang
®
products, you are taking advantage of a wonderful fusion of science and tradition that incorporates the highest standards in the field of Chinese medicine today.
Check for an independent US lab
test report
.
Please note that our tablets may appear neutral in finishing and a little brittle. You may observe a tiny bit of fine powder at the bottom of your bottle and occasionally one or a couple of broken tablets after transportation. This is because unlike other manufacturers, our tablets are not coated as part of our effort to minimize the use of excipients and to make them as pure as possible. These tablets can also be easily dissolved in hot water to serve as tea.
Guang Ci Tang® Advantages
Effective. Safe. Affordable
True 5:1 concentration
Double the strength of other brands
Minimal fillers and binders
No pharmaceuticals, sugar, or dyes
Comprehensive lab testing (e.g., heavy metals,etc.)
Made in a cGMP certified facility
Unbeatable value
Safely used in the USA since 1995
The standard dosage for BalanceEZ™ is 7 tablets each time, taken 2 to 3 times daily with or before meals. One bottle lasts users 10 to 14 days. The dose may be doubled for a quicker and stronger response as needed. Consult your practitioner for precise dosage recommendations based on body weight and other factors.
BalanceEZ™ has a mild action and therefore it usually takes time before its effects become apparent.
Side effects
Ban Xia Bai Zhu Tian Ma Pian (Wan) has been safely used with few adverse effects.
Warning
Allergy
Ban Xia Bai Zhu Tian Ma Pian (Wan) contains Mai Ya (Medicated Leaven) and Shen Qu (Barley Sprout), and is expected to contain gluten. It is not gluten free.
Precaution
Consult your herbalist or physician before use if you are taking other medicines.
If any adverse reaction occurs, discontinue use.
Keep out of reach of children.
Disclaimer:
Product reviews solely reflect the views and opinions expressed by the contributors and not those of ActiveHerb and are provided for informational purposes only. ActiveHerb does not verify or endorse any claims made in these reviews.
Please read the full product reviews disclaimer.
Related Topics
Related Products