Please, login to see the price.
Summary
What does it do?
Ingredients
Preparation
How to use it?
Precaution
In the media
Reviews
Zhen Zhu An Chuang Pian (Zhen Zhu An Chuang Wan, AcniPearl™,
珍珠暗疮片
) is a popular Chinese herbal supplement that supports skin health in tone and texture.
†
Best before date:

5.2026
Zhen Zhu An Chuang Pian formula is particularly suited to cases that are characterized by noncystic acne, abundant pimples, blackheads or bumps associated with adolescence. It is suitable for a range of skin issues that manifest in itching, redness, and fit into the pattern that Chinese medicine ascribes to heat and/or dampness.
According to traditional Chinese medicine (TCM), the skin is associated with the lung and body fluids, and noncystic acne is often associated with heat and dampness. The redness is related to heat, and the tendency to present with a greasy complexion and pustules is associated with dampness. Zhen Zhu An Chuang Pian is made up of natural Chinese herbs that deals with the root cause by clearing heat and eliminating dampness from the skin.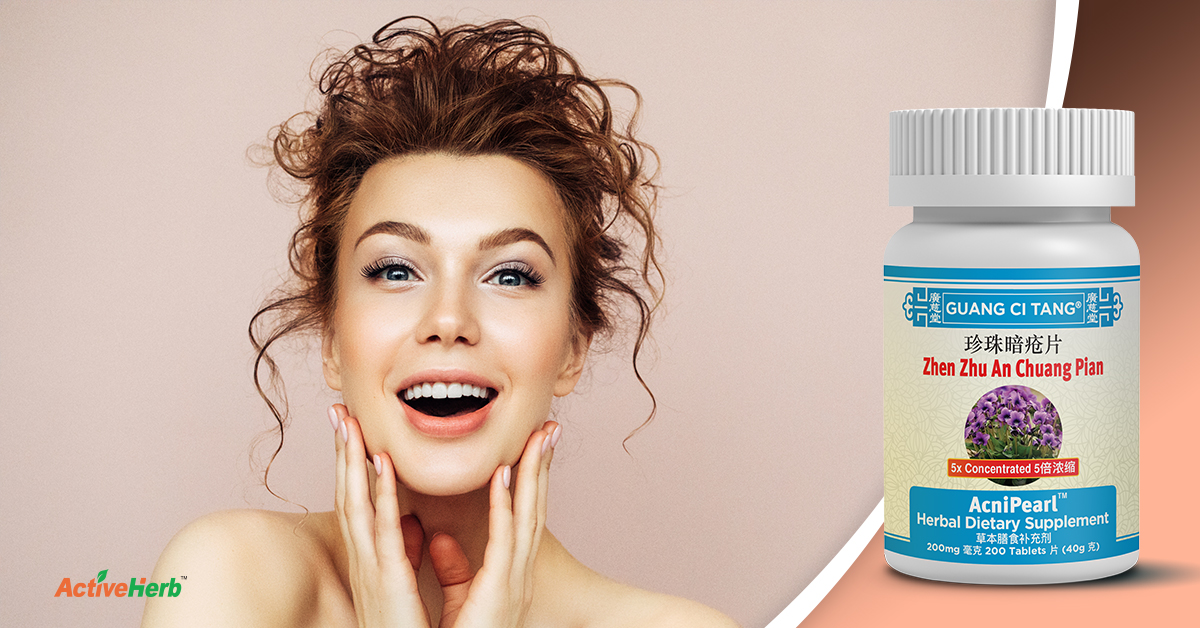 Zhen Zhu, true pearl, is one of Chinese medicine's most famous agents for improving the facial complexion, and it is often incorporated into skin and beauty products. Pearl clears heat and brightens the skin while improving the skin's tone and texture. When taken internally, it also improves the skin at the deepest possible level.
Pu Gong Ying (Dandelion), Jin Yin Hua (Honeysuckle flower), Ye Ju Hua (Wild Chrysanthemum flower), Zi Hua Di Ding (Violet), and Tian Kui Zi (Semiaquilegia root) are all herbs that are found together in the classical formula Wu Wei Xiao Du Yin (Five Ingredient Toxin-Dispersing Beverage). These herbs clear heat and resolve toxins, and they are particularly suited to skin conditions that manifest with redness and/or signs of damp-heat.
Chi Shao (Red Peony), Mu Dan Pi (Moutan cortex), and Dan Shen (Salvia root) are cooling herbs that move the blood, and together they clear deep-lying heat from the channels of the face. Dan Shen also improves the circulation of blood into the body's tiny capillaries to nourish the skin.
Di Fu Zi (Kochia fruit) helps the other herbs to target the skin, and it clears dampness and heat from the skin. Bei Sha Shen (Glehnia root) nourishes the lung yin, which helps the skin to stay lustrous and nourished.
References
| | | |
| --- | --- | --- |
| Tokyo violet whole plant | Viola yedoensis | (Zi Hua Di Ding) |
| Dandelion whole plant | Taraxacum sinicum | (Pu Gong Ying) |
| Semiaquilegia adoxoides root | Semiaquilegia adoxoides | (Tian Kui Zi) |
| Wild chrysanthemum flower | Chrysanthemum indicum | (Ye Ju Hua) |
| Summer cypress fruit | Kochia scoparia | (Di Fu Zi) |
| Japanese honeysuckle flower bud | Lonicera japonica | (Jin Yin Hua) |
| Forsythia fruit | Forsythia suspensa | (Lian Qiao) |
| Chinese peony root with bark | Paeonia lactiflora | (Chi Shao) |
| Tree peony root bark | Paeonia suffruticosa | (Mu Dan Pi) |
| Chinese salvia root & rhizome | Salvia miltiorrhiza | (Dan Shen) |
| Glehnia root | Glehnia littoralis | (Bei Sha Shen) |
| Pearl | | (Zhen Zhu) |
Other ingredients: corn starch (non-GMO), dextrin, magnesium stearate.
We use as little fillers/binders as possible which together amounts to 6% of the tablet weight.
Guang Ci Tang
® Zhen Zhu An Chuang Pian (AcniPearl™) 40 grams in 200 mg 200 tablets @ 5:1 strength.
At a true 5:1 concentration, this product represents the most potent form of Zhen Zhu An Chuang Pian (Wan) on the market. One tablet is equal to 1 gram of raw herb.
Please note that Guang Ci Tang® Zhen Zhu An Chuang Wan in the pill form, which has the same formulation as the tablet, is discontinued.
AcniPearl™ is a Guang Ci Tang signature formula.
Zhen Zhu An Chuang Pian tablets are made with 100% natural herbs that are tested for authenticity, quality, and potency. A traditional water decoction is prepared with the herbs to reproduce the time-tested efficacy of the formula, and this water decoction is concentrated with our proprietary technology to form a potent extract that is made into easily absorbed tablets, which are remarkably effective, easy to use, and safe. The tablets are produced by Guang Ci Tang
®
in our state of the art cGMP-certified facility and imported in accordance with U.S. FDA guidelines. When you choose Guang Ci Tang
®
products, you are taking advantage of a wonderful fusion of science and tradition that incorporates the highest standards in the field of Chinese medicine today.
Check for an independent US lab
test report
.
Please note that our tablets may appear neutral in finishing and a little brittle. You may observe a tiny bit of fine powder at the bottom of your bottle and occasionally one or a couple of broken tablets after transportation. This is because unlike other manufacturers, our tablets are not coated as part of our effort to minimize the use of excipients and to make them as pure as possible. These tablets can also be easily dissolved in hot water to serve as tea.
Guang Ci Tang® Advantages
Effective. Safe. Affordable
True 5:1 concentration
Double the strength of other brands
Minimal fillers and binders
No pharmaceuticals, sugar, or dyes
Comprehensive lab testing (e.g., heavy metals,etc.)
Made in a cGMP certified facility
Unbeatable value
Safely used in the USA since 1995
The standard dosage for AcniPearl™ is 6 tablets each time, taken 2 to 3 times daily with or before meals. One bottle lasts users 11 to 17 days.
The dose may be doubled for a quicker and stronger response as needed. Consult your practitioner for precise dosage recommendations based on body weight and other factors.
AcniPearl™ has a mild action and therefore it takes time before its effects become apparent.
Side effects
Zhen Zhu An Chuang Pian has been safely used with few adverse effects or contraindications.
Warning
1. Not for use during pregnancy.
Allergy
AcniPearl™ is gluten free
Precaution
Avoid alcohol, cigarettes, and excessively greasy or spicy foods in order to achieve the best results.
Consult your herbalist or physician before use if you are taking medications or using other medical treatments.
Consult your herbalist or physician before use for children or the elderly, or for those with underlying diseases.
Discontinue use if allergic reaction occurs.
Use with caution if you have loose stools, low appetite or chronic digestive weakness.
Keep out of reach of children.
Disclaimer:
Product reviews solely reflect the views and opinions expressed by the contributors and not those of ActiveHerb and are provided for informational purposes only. ActiveHerb does not verify or endorse any claims made in these reviews.
Please read the full product reviews disclaimer.
Related Topics
Related Products