Please, login to see the price.
Summary
What does it do?
Ingredients
Preparation
How to use it?
Precaution
In the media
Reviews
Ban Xia Hou Po Pian (Ban Xia Hou Po Wan, Ban Xia Hou Po Tang, PharynJoy™,
半夏厚朴片
) is a famous ancient Chinese medicine that supports throat comfort.
†
It is also an important herbal remedy that supports mental health.
†
Best before date:

9.2027
Having a "lump in one's throat" is a feeling of localized obstruction and blockage of the throat and is called in Chinese medicine as "Plum-Pit Qi." Most people feeling this have no actual physical obstruction of the throat, yet they experience an uncomfortable sensation of blockage that is often exacerbated with stress or emotional tension, and may experience persistent phlegm or a sensation of phlegm that cannot be easily expectorated or swallowed.
While Ban Xia Hou Po Tang, created in the second century A.D. by one of the great pioneers of Chinese medicine, Zhang Zhong-Jing, was originally indicated primarily for a problem affecting the throat, its use has expanded in the modern day to encompass a variety of conditions that are associated with discomfort in the abdomen and chest, as well as emotional distress.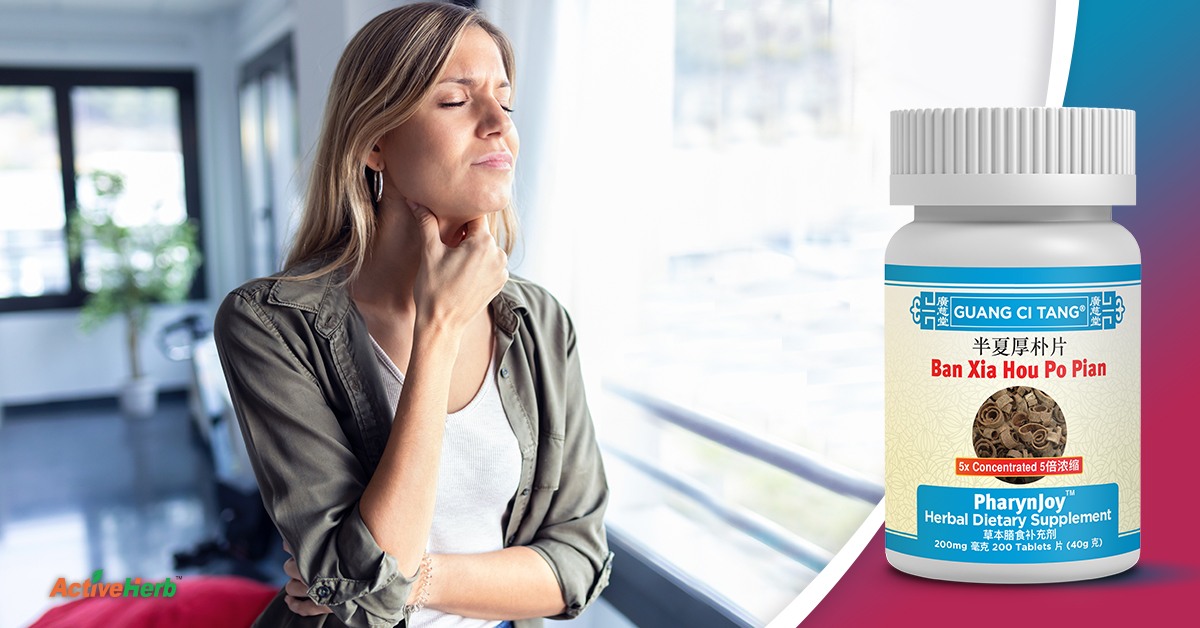 According to traditional Chinese medicine (TCM), the principle pattern treated by Ban Xia Hou Po Tang is one of phlegm and Qi binding in the throat, manifesting in Plum-Pit Qi syndrome. There is a sensation of "lump" in the throat that cannot be relieved by expectorating or swallowing. There may also be fullness in the chest and diaphragm. The tongue is white and moist and the pulse is wiry and moderate or wiry and slippery.
When there are swings in emotion, binding of liver Qi causes the lung and stomach to lose their ability to diffuse and conduct Qi downward; the body fluids are then not dispersed so they accumulate to form phlegm. Phlegm and Qi bind together in the throat to cause the principle symptoms of obstruction in the throat that cannot be expectorated or swallowed, while poor movement of Qi causes discomfort in the chest.
As a whole, Ban Xia Hou Po Pian moves Qi and disperses lumps while transforming phlegm. Ban Xia (Pinellia rhizome) enters the lung and stomach and transforms phlegm while dispersing binds; it is considered to be the chief herb here. Hou Po (Magnolia cortex) is acrid and moves Qi downward while eliminating fullness, thus helping Ban Xia. Fu Ling (Poria) strengthens the spleen while helping Ban Xia to transform phlegm, while Sheng Jiang (Fresh ginger) disperses binds and harmonizes the stomach to relieve vomiting. Zi Su Ye (Perilla leaf) is aromatic and moves Qi to rectify the lung and soothe the liver, and it assists in moving Qi and opening the chest. This combination naturally resolves all the symptoms seen in this pattern.
References
| | | |
| --- | --- | --- |
| Pinellia cured rhizome | Pinellia ternata | (Zhi Ban Xia) |
| Poria sclerotium | Poria cocos | (Fu Ling) |
| Magnolia bark | Magnolia officinalis | (Hou Po) |
| Ginger fresh rhizome | Zingiber officinale | (Sheng Jiang) |
| Perilla leaf | Perilla frutescens | (Zi Su Ye) |
Other ingredients: corn starch (non-GMO), dextrin, magnesium stearate.
We use as little fillers/binders as possible which together amounts to 4% of the tablet weight.
Guang Ci Tang
® Ban Xia Hou Po Pian (PharynJoy™) 40 grams in 200 mg 200 tablets @ 5:1 strength.
At a true 5:1 concentration, this product represents the most potent form of Ban Xia Hou Po Pian (Tang/Wan) on the market. One tablet is equal to 1 gram of raw herb.
Please note that Guang Ci Tang® Ban Xia Hou Po Wan in the pill form, which has the same formulation as the tablet, is discontinued.
Ban Xia Hou Po Pian tablets are made with 100% natural herbs that are tested for authenticity, quality, and potency. A traditional water decoction is prepared with the herbs to reproduce the time-tested efficacy of the formula, and this water decoction is concentrated with our proprietary technology to form a potent extract that is made into easily absorbed tablets, which are remarkably effective, easy to use, and safe. The tablets are produced by Guang Ci Tang
®
in our state of the art cGMP-certified facility and imported in accordance with U.S. FDA guidelines. When you choose Guang Ci Tang
®
products, you are taking advantage of a wonderful fusion of science and tradition that incorporates the highest standards in the field of Chinese medicine today.
Check for an independent US lab
test report
.
Please note that our tablets may appear neutral in finishing and a little brittle. You may observe a tiny bit of fine powder at the bottom of your bottle and occasionally one or a couple of broken tablets after transportation. This is because unlike other manufacturers, our tablets are not coated as part of our effort to minimize the use of excipients and to make them as pure as possible. These tablets can also be easily dissolved in hot water to serve as tea.
Guang Ci Tang® Advantages
Effective. Safe. Affordable
True 5:1 concentration
Double the strength of other brands
Minimal fillers and binders
No pharmaceuticals, sugar, or dyes
Comprehensive lab testing (e.g., heavy metals,etc.)
Made in a cGMP certified facility
Unbeatable value
Safely used in the USA since 1995
Take 5 tablets each time, 2 to 3 times daily. One bottle lasts users about 2 to 3 weeks.
The dose may be doubled for a quicker and stronger response as needed (e. g., with heavy body weight).
As the herbal formula is a mild tonic, results may only be noticeable after 2 weeks. It is suggested to take 4 to 6 bottles in full dose as the first regimen. The dose may then be reduced.
Side effects
Ban Xia Hou Po Pian (Wan) has been safely used with few adverse effects when used as directed.
Warning
1. Not for use during pregnancy.
Allergy
PharynJoy™ is gluten free
Precaution
Consult your herbalist or physician before use if you are taking other medicines.
Keep out of reach of children.
Disclaimer:
Product reviews solely reflect the views and opinions expressed by the contributors and not those of ActiveHerb and are provided for informational purposes only. ActiveHerb does not verify or endorse any claims made in these reviews.
Please read the full product reviews disclaimer.
Related Topics
Related Products